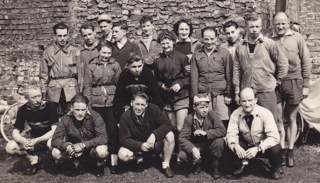 Ilkley Cycling Club has a strong and distinguished past, although only a few years of its existence are well understood. The club is known to have been founded in 1896.
Even back in the 1950s they were proud of their heritage, with the 'Established 1896' clearly shown on the certificates awarded at the time.
Our only firm facts at the moment are from the details offered by Brian Sweet, who was one of the top club riders during the first half of the 1950s, and by Bev Barrat, who was another top rider during the second half of the 1950s.
At that time the club was known as Ilkley and District CC, and was the major club in the area.
On Sunday 26th July 1953, we know that the following riders competed in the Third Annual Three Dales Road Race: P.N Ellis, B.V. Sweet, M. Dibb and D.H. Modley.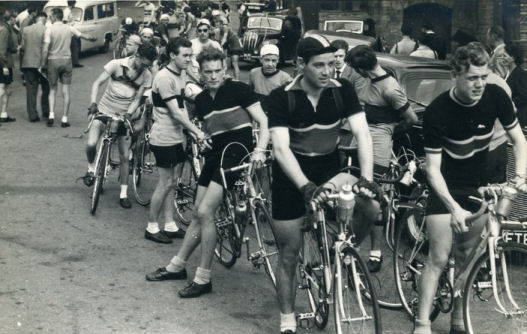 The above photo shows the Ilkley team at the front of the line waiting for the off at Skipton Our own Brian Sweet is the third man back leaning nonchalantly against his bike.
Later that year on 9th August 1953 the following riders competed in the York Rally Road Race: P.N. Ellis, D.A. Molloy, B.V. Sweet, M. Dibb and A.G. Smith.
Many other local road races took place such as The Golden Acres Circuit Road Race, and The Denby Dale Road Race.We have access to many of the start sheets, results and programmes from this era, which we will scan, catalogue and add to this site.
Ilkley and District Cycling Club organised its own prestigious race, called the Yorkshire Dales RoadRace, and we know in 1953 it was the fifth annual race. The Start was at the Town Hall with the finish on Skipton Road and was a circuit via Addingham, Bolton Bridge, Blubberhouses, Catchem Corner, Summerbridge, Pately Bridge, Greenhow Hill (prime), Dibblebridge, Grassington, Skipton and back.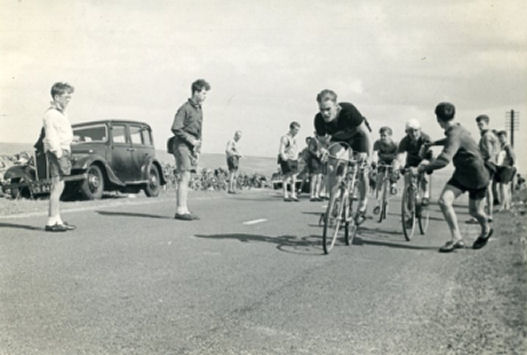 Pictured here our own Brian Sweet working hard over the Greenhow climb.
The club was also a social club, with traditional club rides often including a picnic along the way. Here's the group from one such outing.
Later in the 1950s, when Brian had moved on, we know that another local member, Alan Wilson, was an active junior.
The photograph shows a badge from the club that Alan still holds to this day.

We would be very keen to hear of any other stories from the old club, or of cycling at the time, and we would also really like to have a club historian who could start to chronicle and record the history of the club. If you would be interested then please contact
secretary@ilkleycyclingclub.org.uk